A Professional Opinion on Katherine Gorge Tours!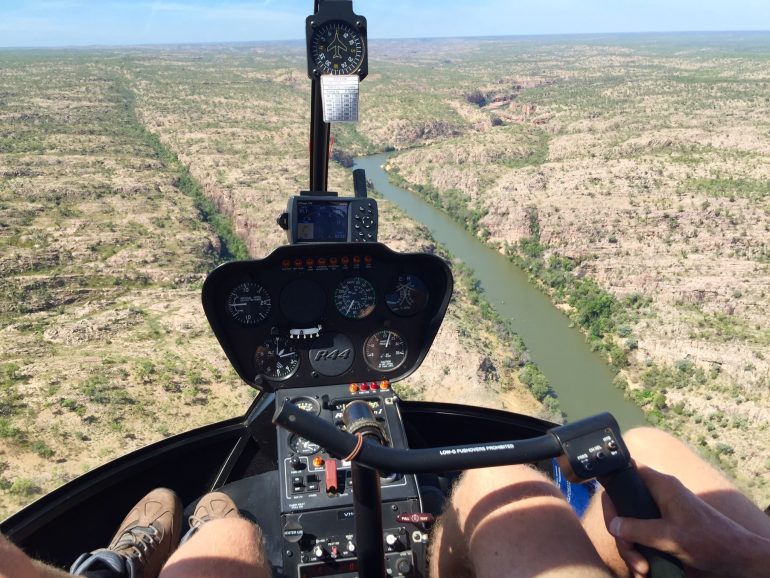 Jerry is a helicopter pilot at HeliSpirit who has a lot of experience flying people day in and day out on Katherine Gorge helicopter flights. We asked Jerry a few questions about himself and his time at Katherine Gorge.
What is the best thing about being a helicopter pilot?
The best thing about being a helicopter pilot I think is the diversity of the landscape we get to fly over every day. We get a birds eye view of places many never have the chance to even see.
How long have you been flying?
My first training flight was towards the end of 2014 in Perth WA, I have been flying commercially for my third year now in the Kimberley and Northern Territory.
What was/is your favorite Katherine Gorge tour to take people on?
My favourite tour over Katherine Gorge to take our passengers would have to be our K4 30Minute tour.
This tour gives the passengers the best Katherine Gorge views but also great waterfall exposure. We fly to get the best perspective to appreciate the scale of this harsh landscape.
What are the best aspects/ most spectacular parts of Katherine Gorge?
Seeing Katherine Gorge from the air, allows us to really appreciate the geological features of the escarpment and how the gorge was carved over the years and how the escarpment was formed. The time scale these formations happen is just mind boggling.
How many seasons were you at Katherine Gorge?
Katherine was my home base for one season and also visited as a relief pilot the previous year.
What is the most common question you get from passengers?
The most common question I get asked by passengers would have to be "have you seen this in the wet season?". The answer is that I haven't, yet (one day I am sure I will) but for now I have a second job during the wet season that I move to.
What is it that you do during the off season?
During the off season up here, I head back down south where I contract my services as a farm hand. This isn't a flying role so I get a good variety of work throughout the year.
Any stories/interesting facts about Katherine Gorge Helicopter Tours or your time spent there?
Katherine was a great place to live and work. You are so close to most of the Northern Territory sights. The sunsets never cease to amaze me in this part of the work and the local butcher has some of the most delicious products. What more could you want!?
Jerry gives us a great insight to the lifestyle of a pilot flying within Katherine Gorge and what the job entails, it sounds pretty good doesn't it?
If you want to find out more details about Katherine Gorge Helicopter Tours, visit www.helispirit.com.au or call 1800 833 722